At
Copper 444

, we seek to bring the industrial and ingenious material that is Copper Niobium Superconductor into the hands of artists and entrepreneurs in an effort to expand its purpose across many venues, crafts and talents. Our Superconductor material is genuine superconductor, as it is composed of a copper base with niobium and titanium filaments.  Any questions about our material, please write us at cniobium@outlook.com.  Thank you for your interest in

Copper 444!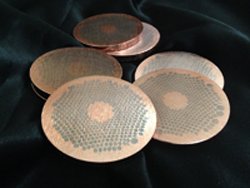 Also, follow us on Instagram for updates as well, and visit our gallery page here to see what artists are doing with our material. 
updated on 4/19/2016


Thank you for your interest in COPPER 444!